Journey of a young entrepreneurs: Overcoming Obstacles and Achieving Success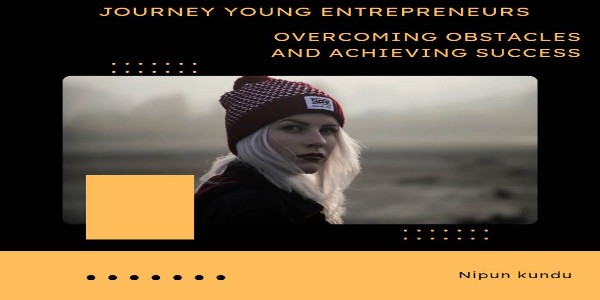 A young entrepreneur faces several challenges when he starts his new business.
Which he has to consider as a young entrepreneur, you may face many challenges. HhhAs a young entrepreneurs, there are many challenges you may face.
Young entrepreneurs Here are three common ones:
Lack of experience:
As a young entrepreneur, you may not have the experience or knowledge to navigate the business world. You may not know how to write a business plan, build a financial model, or negotiate with investors. You may also lack a network of contacts who can help you find customers, suppliers, and employees.
Young entrepreneurs how to overcome this challenge?
To overcome this challenge, you can seek out mentors who can guide you through the process. You can also attend entrepreneurship events, join networking groups, and take business courses to learn the skills you need.
Limited resources: As a young entrepreneur, you may not have a lot of money or resources to start your business. You may have to rely on your personal savings, credit cards, or loans from family and friends. You can also look for an investor who would be interested in investing with young entrepreneurs.
How to overcome this Limited resources challenge?
To overcome this challenge, you can start small and focus on a minimum viable product that you can test with customers. You can also look for creative ways to raise funds, such as crowdfunding, grants, or pitch competitions. It's also important to manage your cash flow carefully and keep your expenses low.
If you want to read an article about restaurant business, you can read it here: Customer Retention in Restaurant business, Marketing tips
Balancing work and personal life: Starting a business can be all-consuming, especially if you're doing it on your own. You may find it difficult to balance your work and personal life, which can lead to burnout and stress.
To overcome this challenge, it's important to set boundaries and prioritize your time. You can schedule time for work, exercise, family, and friends to ensure that you're taking care of yourself. You can also delegate tasks to employees or contractors to free up your time and reduce your workload.
Finally, you can seek support from a therapist or coach to help you manage your stress and anxiety.